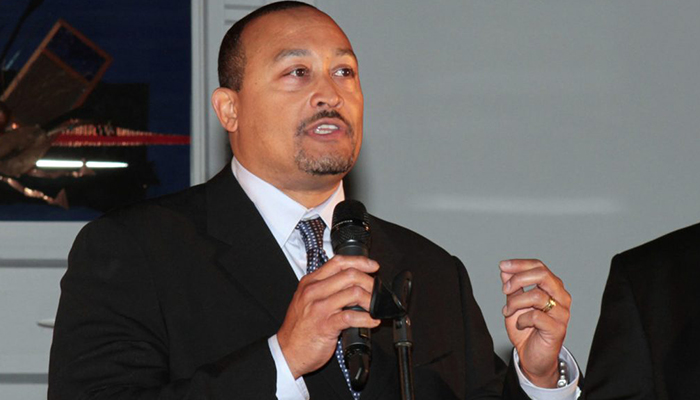 Pluria has been a member of the National Black Media Coalition, the National Association of Broadcasters, and the National Association of Television Programming Executives. He has also served on the boards of the National Newspaper Publishers Association, the Texas Association of Broadcasters, the California Newspaper Publishers Association, and the National Newspaper Publishers Association Fund (formerly the National Newspaper Publishers Association Foundation).
GREETINGS FROM THE NATIONAL NEWSPAPER PUBLISHERS ASSOCIATION FUND PRESIDENT
PLURIA MARSHALL JR.
Broadcasting Executive and Publisher of Wave Community Newspapers
Dear NNPA Publishers, Corporate Partners, Sponsors and Guests:
As chairman of the National Newspaper Publishers Association Fund – formerly known as the NNPA Foundation – it is my pleasure to welcome you to NNPA's 2020 Annual Convention, held virtually for the first time in our 80-year history.
As we reflect on the many challenges facing black America today – like COVID-19 infections, rampant police killings of black men and rising social and economic disparities – the ancient curse "may you live in interesting times" seems especially fitting.
Being black in America, however, means we've always lived in challenging and "interesting" times.  And the miracle is not just that we survived that reality, but that we've thrived in spite of it.  How? By honoring the principles reflected in our convention theme this year: "Trust, Hope and Resilience."
The Black Press, founded 193 years ago, has arguably been at the forefront of that historic mission for generations; educating, empowering and inspiring black people to continue looking for a way out of no way – and urging them to keep their eyes on the prize.
That mission, now approaching 200 years old, has not changed. The Black Press is still needed – as it says in this year's convention theme – to be the "Vital Voice of Black America," inspiring our people to fight and overcome COVID-19 and the plethora of other challenges we face.
Whether it's inequities in education, health, criminal justice or socio-economic wealth, we must commit to ensuring that the Black Press is solvent and robust enough to accept the challenge.
I am confident that, collectively, we have the will, energy and vision to reach that goal. And as chair of the NNPA Fund, I pledge to honor our mission of providing academic and career opportunities for the next generation of activists who will take that baton – and advance our mission of providing quality content that empowers readers to live more fulfilling and rewarding lives.
That's my commitment. What's yours?
Sincerely,
Pluria Marshall Jr.
Our Event Sponsors